AJUNTAMENT SANT BOI Il·lustració central 1a Fira de la Logística. Creativitat i direcció d'art Juank Espejo Pizarro & Josep Inarejos @ina.disseny
Central illustration of the 1st Logistics Fair. Creativity and art direction Juank Espejo Pizarro & Josep Inarejos @ina.disseny

51TRIPS Col·lecció de pictogrames per a diaris de viatge. 8 destinacions: Japó, Islàndia, Espanya, Estats Units, Tailàndia, Itàlia, Grècia, Mèxic, Genèric. Pictogram collection for travel diaries. 8 destinations: Japan, Iceland, Spain, United States, Thailand, Italy, Greece, Mexico, Anywhere.+info https://51tripsbrand.com/
BELLA AURORA Creació de personatge amb diferents actings i fons per al packging dels protectors solars de la marca. Creation of character with different actings and funds for the packging of the brand's sunscreens.
Il·lustració per a l'agència Odissea com a part de la proposta de gràfica per a Saló d'alimentació. Propuesta descartada. Illustration for the Odisea agency as part of its graphic proposal for Food Hall. Discarded proposal.
Il·lustracions per a app, animació i wellcome pack de targeta de crèdit. Illustrations for app, animation and wellcome pack of credit card.
COCA-COLA Il·lustracions per a material promocional i vídeo explicatiu. Campanya de comunicació "Hi ha un envàs de Coca-Cola per a cada moment". Adreça d'art Emotion Experience. Illustrations for promotional material and explanatory video. Communication campaign "There is a container of Coca-Cola for every moment" Art direction Emotion Experience.
CARBONELL Il·lustració per a packaging i campanya. Adreça d'art Chilli.
Illustration for packaging and campaign. Chili art direction.

PROMETEO PLATFORM Imatge corporativa, disseny web i infografia de la startup guanyadora del Call for Code Global Challengue 2019. Corporate and web image of the winner startup of 2019 Call for Code Global Challenge. +info www.prometeoplatform.com
GENERALITAT DE CATALUNYA FHL CHALLENGE. Disseny de la gràfica de la campanya amb creació de personatges, icones i fons. Projecte de l'agència 17 Comunicació per al Departament d'Agricultura, Ganaderia, Pesca i Alimentació.
Design of the campaign graphic with the creation of characters, icons and backgrounds. Agency project 17 Communication for the Department of Agriculture, Branch, Fisheries and Food.
AEGON Creació de personatges per a la Campanya #ElCuartoReyMago. Direcció d'art El Rebost.
Creation of characters for the #ElCuartoReyMago Campaign. Art direction La Despensa.
SOLID SELECTION Il·lustracions corporatives.Corporate illustrations. www.solidselection.com
TORRE ROSA. Il·lustració per a carta de còctels i impressió gran format. Illustration for cocktail menu and large format printing.
CSR-ONLINE. App "Albarans" www.csr-online.net
ROYAL CARIBBEAN. Mapa del Carib amb flota i punts d´interès. Direcció creativa Vertigo. Caribbean map with fleet and points of interest. Creative direction Vertigo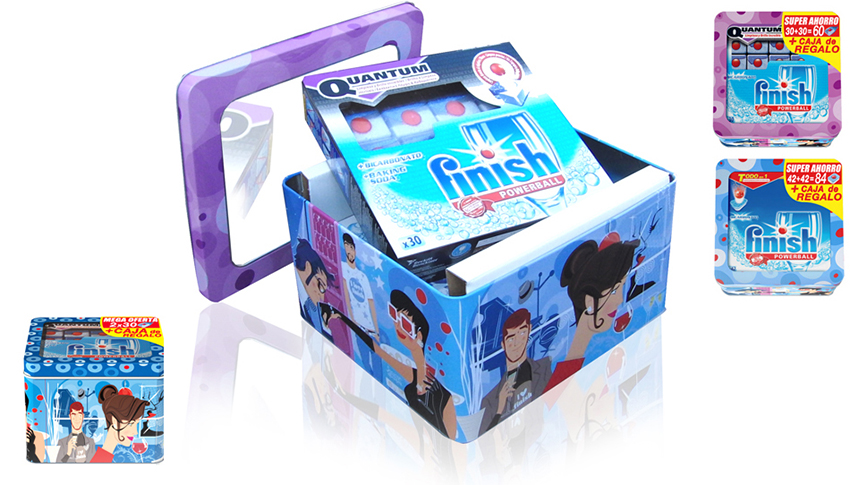 FINISH. Disseny de pack promocional. Llauna metàl·lica col·leccionable per promocionar format estalvi. Direcció d´art Chilli Design. Promotional pack design Collectible metallic tin to promote format ahorrowww.finish.es | Art direction Chilli Design
NESTLÉ.Il·lustració i gràfica per a implementació de punt de venda a centres Carrefour i Eroski. Campanya "Nestlé i l'aventura de la xocolata"
Adreça d'art Plenum Design.

Illustration and graphic for implementation of point of sale in Carrefour and Eroski centers. Campaign "Nestlé and the adventure of chocolate"
Art direction Plenum Design.
BIOGRÀ. Personatges per a packaging Biozoo Kétchup i Sal Marina. Adreça d'art Tàctica 42.
Characters for Biozoo Ketchup and Sal Marina packaging. Art direction Táctica 42.

NESTLÉ. Edició Col·leccionable "Milenium 2013".Collectable Edition "Milenium 2013".
Nestlé. Il·lustracions per a packaging dels bombons de la Caixa Roja. Illustrations for packaging of the chocolates of the Caja Roja.
GB FOOD (Gallina Blanca, Star, Jumbo, Grand'Italia y Gino) Col·lecció d´il·lustracions amb estil POP-ART per a impressió en gran format. Direcció d'art SUMA. Collection of illustrations with POP-ART style for large format printing. Art direction SUMA.
Fragata Photocalls 3 x 2,5 mts.





AQUALIA (FCC) DOODLE DIBUIXAT | STORYTELLING DIBUIXAT | IL·LUSTRACIÓ PER A DOODLE | IL·LUSTRACIÓ PER A STORYTELLING | WHITEBOARD ANIMATION

DOODLE DRAWING | STORYTELLING DRAWING | ILLUSTRATION FOR DOODLE | ILLUSTRATION FOR STORYTELLING | WHITEBOARD ANIMATION
POLLO CAMPERO. Disseny del parc infantil de Pollastre Campero a Tegucigalpa (Hondures). Superfície d'impressió: Mural 1 (imatge de dalt) 259X596 cms./ Mural 2 236X330 cms.(imatge de sota). Pollastre Campero a Hondures forma part del Grup Intur que explota entre altres marques, i a més de Pollastre Campero, Burguer King i Dunkin Donuts. Design of the playground of Pollo Campero in Tegucigalpa (Honduras). Printing surface: Mural 1 (image above) 259X596 cms./ Mural 2 236X330 cm (image below). Pollo Campero in Honduras is part of the Grupo Intur that operates among other brands, as well as Pollo Campero, Burguer King and Dunkin Donuts.
DOS DEUS VERMOUTH.

Lançament un nou vermouth per a cocteleria de CBP. Amb la direcció d'art de PCats, disseny entre altres elements dels Posters de les Rutes de Dia i Nit, i els banners en vinils per a photocalls.

Launching a new vermouth for CBP cocktails. With the direction of art of PCats, design among other elements of the Posters of the Routes of Day and Night, and the banners in vinyls for photocalls. www.dosdeus.com.
NESTLÉ Caixa Roja Boite de Nestlé "La teva caixa de Xocolates" Amb adreça d'art de Plenum Design. Presentat en llauna metàl·lica al mercat en 4 colors". Nestlé Red Box Boite "Your Box of Chocolates" With art direction of Plenum Design. Presented in metallic tin to the market in 4 colors.
DOS DEUS / ALIMENTARIA. Disseny per a l'estand de WKYREGAL a Alimentaria 2014 (Barcelona), i adaptació a l'interfàs gràfic de la web www.dosdeus.com. Design for the stand of WKYREGAL in Alimentaria 2014 (Barcelona), and adaptation to the graphic interface of the web www.dosdeus.com
HAPPY COLOURS Caixes metàl·liques turístiques. Disseny naïff. 3 models Barcelona, Madrid i Espanya.
Metal tourist boxes. Naiff design. 3 models Barcelona, Madrid and Spain
HAPPY COLOURS. Caixes metàl·liques de galetes. Nova gamma de productes ja a la venda.

Metal boxes of cookies. New range of products already on sale.
CACHEIRO GROUP. Il·lustracions per a cartes i panells informatius. Restaurants Trovador, Tenorio i Bimba's entre molts molts formen part del Grup Cacheiro.

Illustrations for information panels. Restaurants Trovador, Tenorio and Bimba's among many others are part of Grupo Cacheiro
PANRICO. Bollyjumps. Fingers Bomb és una creació meva. L'item pantentado és una làmina de plàstic que es tanca sobre si mateixa formant una peça volumètrica. La peça ja amb volum es pot llançar de maneres diferents. El Fingers Bomb ha surt al mercat el 2012 amb els personatges impresos de "Los Simpsons".

Bollyjumps. Fingers Bomb ® is my creation. The patented item is a plastic sheet that closes on itself forming a volumetric piece.The piece already with volume can be launched in different ways. The Fingers Bomb has been released in 2012 with the printed characters of "The Simpsons" + info
DELIVEROO | Disseny bossa tela crua per promocionar la marca dins de Mobile World Congress de Barcelona.
Raw fabric bag design to promote the brand within Mobile World Congress of Barcelona.